Scaffolding Companies in Tonbridge | Choosing a Scaffolder
No two scaffolding companies are the same so, if you have an upcoming domestic project or commercial works in Tonbridge, there's a good chance you're already weighing up your scaffolding hire options. Don't simply opt for the first scaffolding erectors to pop up in the search engines or a directory. It's important to consider your choices and to have a good idea of what you need, before committing to the scaffolding services of any one company.
Whatever is important to you, be it budget, experience or trust, we think it's crucial to build your own brief and to talk to as many scaffolding companies in the Tonbridge area as possible. Only make a decision on scaffolding hire after exploring all available options.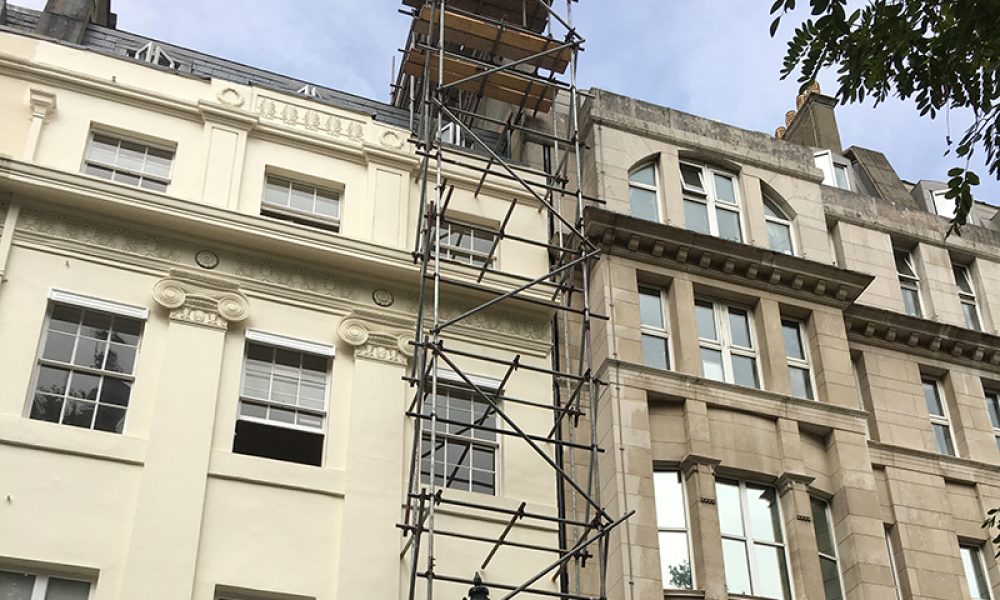 It is something of an expectation for your preferred scaffolding erectors to have a strong opinion on site safety but standards often vary from company to company. Always look for the credentials of scaffolders before making a decision, such as training to CITB and CISRS standards. Does the company provide additional training to support the minimum required for working in the scaffolding sector, and does it have good credentials itself?
All scaffolding services supplied by JDM meet strict industry standards. We cover Tonbridge with accredited CHAS, FORS Silver, Construction Line and Safe Contractor status, and we provide our scaffolding erectors with extra training in PPE, asbestos awareness and more.
Careful planning reduces risk but accidents happen with even the best-prepared scaffolders. It is a legal requirement for scaffolding companies in the UK to have suitable insurance cover. Make it a responsibility to check for insurance, and always be wary of scaffolding hire companies who can't come up with documentation. In the event of an accident at your Tonbridge site, you need to know that all service providers have protection in place.
At JDM, we cover our scaffolding services with £10m of public liability and £10m of employers' liability insurance. We prepare for all eventualities but remind you that we have an impeccable safety record and that we always put the welfare of your workforce first.
Spend some time comparing the rates of different scaffolding erectors in the Tonbridge area by requesting quotations. Most scaffolding companies survey, consult and quote for free and without obligation. To ensure you receive a genuine value-for-money service, check quotations for scaffolding services alongside the project brief to ensure prices include everything you've requested in the specification. The cheapest quote isn't always the best.
Pay particular attention to any special requirements you might have asked for and establish the timescale for completion. If scaffolders need to make changes to their initial quotation, find out how it affects the timescale and your original budget proposal.
When you have a complex scaffolding hire specification, check the company for experience and try to find out a little about their previous projects in or around the Tonbridge area. There's no reason to consider scaffolding companies that have no experience in the type of construction you need (especially if you need specialist builds such as cantilever or suspended scaffolding). If you have a larger project, is the company big enough to fulfil it?
JDM has some of the most experienced scaffolding erectors in the South East region and more than half of our employees have been with us in excess of fifteen years. In this time, they've design and constructed every possible type of tower and access solution.
You must have trust in the scaffolding services you choose, so meet with the company in advance. Build an understanding of their approach, the way they work and how other customers and clients in the Tonbridge area perceive them. Ask questions and try to establish a relationship. Reputable scaffolding companies won't mind you taking a little time to make the right decision, and will treat you just as valuably as a paying customer or client.
You have the absolute right to be a little choosy over who provides you with the eventual scaffolding hire services you need, and a little time invested now could pay dividends later. Remember to trust your own instincts too, and always err on the side of caution.