Scaffolding Erectors in Swanley | Bespoke Tower Constructions
JDM Scaffolding Ltd delivers a comprehensive range of scaffolding services to customers in Swanley and its surrounding areas. We have scaffolding erectors available 24/7 to deal with emergencies, or by appointment to build towers tailored to any individual project. This could be for DIY or property maintenance on the exterior of a home, or for new builds on a commercial development. It could even be to provide a temporary roofing structure.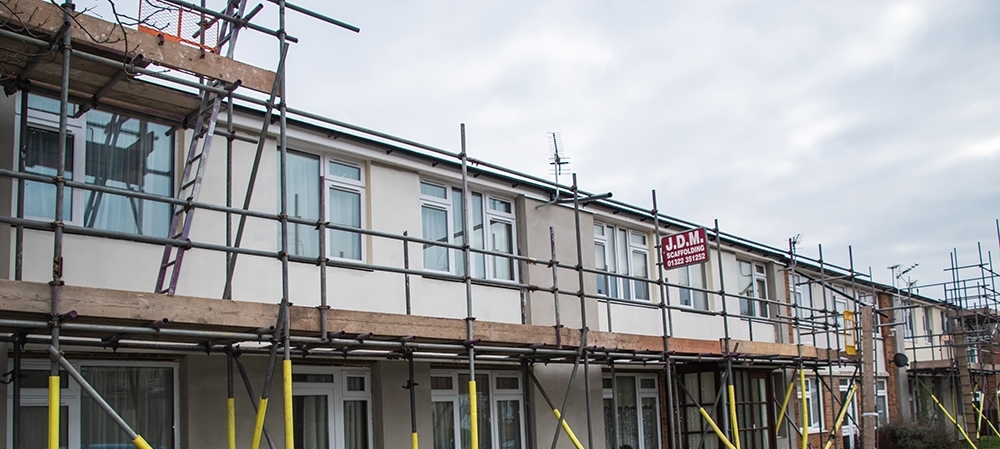 Find out below why you should consider our scaffolders first on any job in Swanley:
We offer our Swanley clients short or long-term scaffolding hire at a competitive price. If you're unsure as to how long you'll need a scaffolding structure for, please let us know. We'll tailor your package accordingly so you never pay over the odds.
Our scaffolders have 24/7 availability to provide emergency scaffolding services. If you have a situation where you need scaffolding urgently, call us and we will do everything possible to have a crew of scaffolding erectors with you right away.
Our scaffolders make a firm commitment to using current safety practices at all times. We firmly believe that our workmanship and our attitude set us apart from other scaffolders in Swanley and help us to preserve our excellent safety record.
More than 85% of Swanley and Kent customers use our scaffolding services more than once. Word-of-mouth recommendations account for much of our business. We increase repeat custom through ongoing training for our scaffolding erectors.
We regularly check the equipment we use to make sure every piece is in a safe condition and shows no signs of wear and tear. We supply inspected equipment and PPE ahead of attending jobs in Swanley to keep our scaffolding erectors safe.
Our company trains scaffolders to CITB and CISRS standards. JDM Scaffolding is a CHAS and Construction Line accredited company, holds public liability insurance of £10m and shuts down annually to further train its team of scaffolding erectors.
All long-term scaffolding towers undergo periodic checks to make sure they remain safe for the duration of the project. We work closely with Swanley clients and further attend their sites to check for safety after periods of bad weather or high wind.
We supply additional equipment to help contractors make the best use of our scaffolding. Our scaffolding erectors integrate internal ladders, rubbish chutes, platforms and access walkways wherever you need them at your Swanley site.
CITB and CISRS training give our scaffolders the skills they need to do their job safely. To make sure our scaffolding services provide the safest environment for clients and customers, we also provide our contractors with asbestos awareness training.
Once you've finished with our scaffolding, call us on 01322 351252 and we'll arrive to dismantle the construction promptly and to lower your overall hire costs. Our scaffolding erectors even clean the surrounding area after deconstructing a tower.
Call
01322 351252
to discuss scaffolding services for homes or sites in Swanley. We offer free, no-obligation quotations and cater for all domestic and commercial requirements.